This post originally appeared in my newsletter.
Happy Civic Holiday!
As most of you are already aware, I talked to Bill Powers of Mining Stock Education last week about how I got started and my process for making investments. Please forgive all the filler words and fast talking. I'm out of practice and an hour freeballing isn't a 45-second markets report.
I've been putting off a newsletter post, partly because of procrastination, partly because of the difficulties integrating Twitter embeds, but mostly because of some projects not related to investing (I'll have some short stories published before year end). Hopefully there's some value in hearing about my journey and what works for me. I thought I could get back into investment writing by drilling down on points I glossed over or assumed the listener understood that I probably should have explained.
Useful Books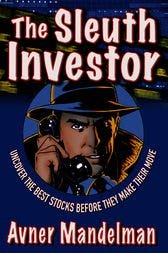 I mentioned The Sleuth Investor by Avner Mandelman. He breaks down his due diligence process by people, plant, product and periphery. The book still holds up, but there is an updated version that I haven't read. I recently read Capital Returns after hearing it discussed on the Value Hive podcast. It's essential content for anyone speculating in cyclical industries.
Building a Model
My valuation models in Excel are crude but effective. They let me play around with different inputs so I can see how costs, production delays, royalties and spot prices impact cash flows and valuation. There's no one right way to do it and Youtube is your friend if you're looking to figure it out. The best time to learn was yesterday. The second-best time is today before you invest another dollar. If all you can do is regurgitate someone else's thesis or macro talking points, you aren't going to make it.
Building an Investment Case
I like this as a quick test.
Below is how I build my mosaic. I've structured it as a checklist in an effort to keep this simple.
The basics
Do I care enough about this business to spend the time learning about it?
Explain to a child how the business operates and makes money
How has the business evolved?
What countries do they operate in and what are the jurisdictional risks?
Are the people in charge trustworthy?
Management basics
What type of manager is leading the company?
How would outside management effect the company?
How did the CEO end up in charge?
How are senior management compensated? How did they gain their ownership interest?
Are insiders buying or selling the stock?
Management Skills
Does the CEO manage the business for all stakeholders?
Does management learn from mistakes? For example by improving operations day-to-day or using a strategic plan
Does the company issue guidance?
Is the business managed in a centralized or decentralized way?
Does management value employees?
Can management recruit top talent and hire well?
Does management cut unnecessary costs?
Does management make disciplined capital allocation decisions?
How does the company return excess cash to shareholders?
Management Ethics
Does the CEO love the money or the business?
Can you identify a moment of integrity for management?
Is the company clear and consistent in their communications and actions?
Does management think independently?
Is the CEO self-promoting?
Customers
Who is the customer?
Is the customer base diversified?
What's the sales cycle? Is it easy to convince customers to buy the product?
Customer retention rate
Evidence the business is customer oriented
What problem does the business solve for the customer?
Is the customer dependent on what the business provides?
Any viable replacements/substitutions?
Understanding the business and broader industry
Does the business have a sustainable competitive advantage and what is it?
Can the business raise prices without losing customers?
Does the industry have good economics?
How has the the industry evolved?
How intense is the competition?
What type of relationship does the business have with suppliers?
Operating metrics and Finances
What are the fundamentals of the business?
Operating metrics to follow
Key risks facing the business
Does inflation impact the business?
Is the balance sheet strong or weak?
Return on invested capital
Cash Flow
Are the accounting standards conservative or aggressive?
Are revenues recurring or one-off transactions?
Is the business cyclical, counter cyclical or recession-proof?
How does operating leverage impact earnings?
How does working capital impact cash flows?
What are the CapEx requirements?
Growth
Does the business grow through M&A, organically or both?
What is management's motivation to grow the business?
Has previous growth been profitable and will it continue?
What are the future growth prospects?
Is management growing the business too quickly or slowly?
How does management make M&A decisions?
Have past acquisitions been successful?
You can reject or accept an investment for any reason you want. Just be honest with yourself.
Winners and losers seem self evident, but I can provide detailed post-mortems if there is interest. I plan to cover the other stocks I mentioned as part of a mid-year update.